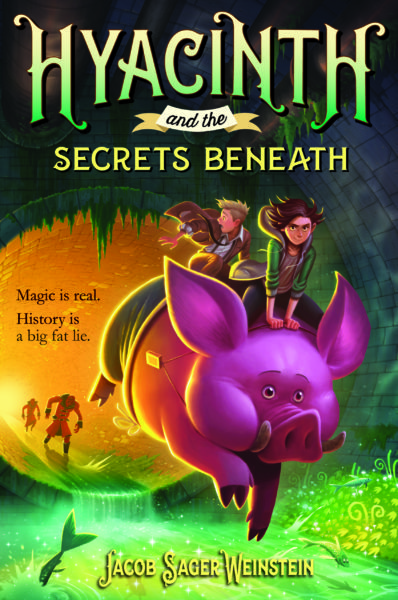 Hyacinth and the Secrets Beneath
Magic is real. History is a big, fat lie.
Before Hyacinth Hayward moves from Illinois to London, she reads up on the city's history. Unfortunately, history is a big fat lie. The truth is, London was built on magical rivers, and all the major events in its past have been about people trying to control the magic.
When Hyacinth gets mixed up in this centuries-old conflict, her mom is kidnapped. In the chase to get her back, Hyacinth encounters a giant pig in a bathing suit, a boy with amnesia, an adorable tosher (whatever that is), a sarcastic old lady, and a very sketchy unicorn. Somehow Hyacinth has to figure out who to trust, so she can save her mom and, oh yeah, not cause a second Great Fire of London.
"A rollicking adventure with a lulu of an ending that comes with the promise of a sequel. Middle graders will adore clever Hyacinth and enjoy the other humorous characters, the puns (Oaroboarus, indeed), and the suspenseful narrative." —Kirkus
"With plot twists and potty humor galore, this is an entertaining read-aloud that should keep even reluctant readers engaged. VERDICT: Fans of Suzanne Collins's 'The Underland Chronicles' and Roderick Gordon and Brian Williams's 'Tunnels' series will enjoy this fantastic, funny adventure."
-School Library Journal
"It's a wild ride that's fun, freaky, outlandish, and suspenseful. Readers will beg for another installment."
-Booklist
"A harum-scarum ride through London's sewer-land, where Hyacinth becomes enmeshed in an almighty battle for control of the underground river-magic. Villains ooze, mudlarks speak Victorian cockney and London's history is reconfigured to fit the plot of this excellent thriller."
-The Guardian
"A… vivid and original voice… Despite the many fantastic elements, Hyacinth immediately feels real."
The Story Behind The Series
In December 2005, I took a self-guided walking tour along the Thames embankment, in the company of a book that told me about its history and construction. I was amazed to learn that such a beautiful part of the city had come into existence purely to hold Victorian sewers. I found myself wondering if there was some other explanation – one that would be as romantic as the riverside walk that it led to. What if the sewage project was just a cover? What if there was a magical conspiracy behind everything?
I began to research the story of London's sewers, and that quickly led me to the story of the city's lost rivers. All the books in the Hyacinth  series are based heavily London's history and lore. London is such a magical city that it only takes a slight tweak to turn its historical past into fantasy!
More information on the real-life history and locations that inspired the book can be found here.